Signage
Our signage range addresses two separate applications, customer guidance and promotion. Customer guidance is a vitally important part of any queue system. Customers must be directed as to where to enter and what to do when they reach the head of the queue.We also offer a diverse selection of promotional signage including queue based signs and banners, free standing signs, poster stands and wall mounted lightboxes.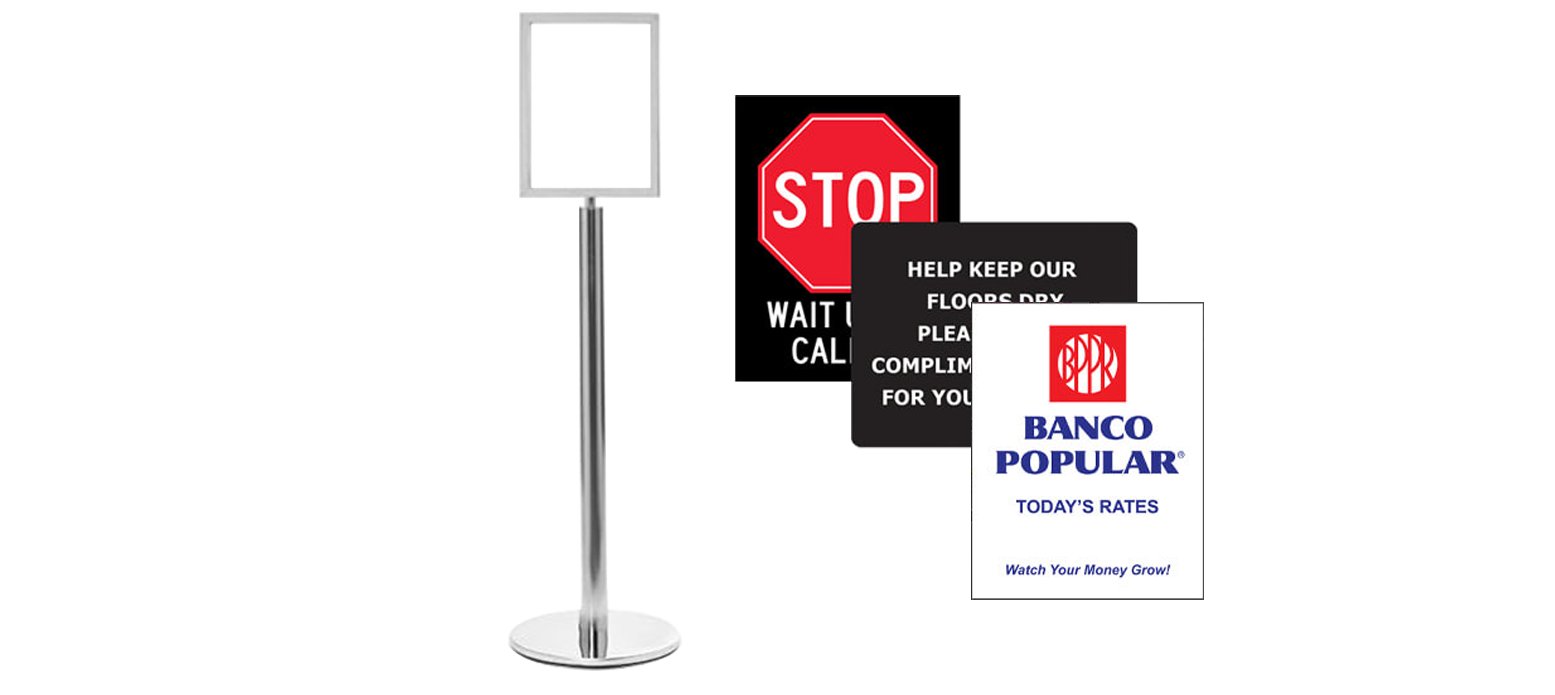 Signage
Effective signage is a key element to managing customer guidance in any venue. Signs to provide direction, indicate entrance and exits, provide safety information, and sales and marketing messages are all part of a typical public setting. In fact, having the correct signage strategy is the foundation of designing efficient customer flow. The importance of signage in the modern public venue is reflected in Queue Solutions vast range of signage options. Stanchion top sign frames, frameless bracket signs, floor standing sign stands, poster bulletins, and stanchion poster panels are all available in multiple sizes and finish options. We also offer a range of standard sign messages from stock or can custom print signs of any size or number of colors to your requirements.
Why Signage is Important to Your Business
Being in a public venue and not knowing where to go is stressful, and customer stress means low customer satisfaction and that is bad for business! Well organized customer guidance is a key element in achieving high levels of customer satisfaction in public settings. This applies in all public venues from airports to retail stores, sports arenas, entertainment venues and government buildings. Anywhere where people must move from one area to another without having been to the location before requires signage. Directing and guiding the public effectively creates a stress-free experience for the visitor.
Passing foot traffic also presents a commercial opportunity to promote brands, products, and services. This is especially true with customer queues where people standing in line are stationary and far more likely to engage with information presented to them by queue signage. Optimizing the commercial opportunities from customers who are already in the location is key to driving added value in all types of public venues.
In summary, signage benefits a business in two ways. Providing way finding signage reduces stress and increases customer satisfaction. Secondly, signage generates added value by generating sales from advertising.
Signage for Wayfinding
Directional signage comes in many different formats, wall mounted, hanging and floor standing are just some on the examples of the almost infinite variety of sign types that can be found in public venues. Wayfinding is of course critical in large buildings such as airport terminals. USA Today reports that the distance between terminals in many airports means that travelers can walk over a mile to make their connections. This involves moving between buildings, sometimes via walkways or by mass transit such as Air Trains. This requires complex navigation which must be managed by people who have never been to that location before. Signage is obviously vital to providing direction for complex, long distance movement between gates at a major airport.
However even smaller locations need a way to direct visitors to places such as the checkout, service desk, or even the bathrooms. So, signage is needed even in the smallest venues to guide and direct visitors.
Retail Signage
The purpose of signage in retail settings is to turn store traffic into sales. Signage also plays an important role in the way customers remember and perceive your brand. Attractive signs help shoppers find the products they seek, encourage impulse sales and communicate current promotions. Effective signage can reduce the time a customer spends looking for a product for purchase and by reducing the search time retailers can reduce the number of shoppers who abandon the search before making a purchase.
Post top signs are signs designed to fit on top of retractable belt or rope stanchions. These are integral to any queue system as customers must be guided as to where the queue entrance is and what to do at the head of the queue i.e. 'Please wait here'. There are two basic formats for post top signage, Bracket Signs and Sign Frames. Bracket Signs are frameless signs made from heavy duty ¼" acrylic and are ideal for outdoor use. These are available in a range of six colors and can be custom printed with your required message. Sign Frames are made of steel and must be weatherized for outdoor use. We have two types, Standard with a 3/8" wide frame and the Heavy Duty with a ¾" frame. For high traffic environments we recommend the Heavy Duty frame. Frames take 1/8" acrylic signs but can also be supplied with two sheets of clear acrylic for use with paper signs, and this means you can print your owns signs with any desk top printer.
The Queue Solutions signage range includes several products that are ideal for instore promotions. Sign Stands are a pedestal sign, which is a sign frame on a post with a weighted base for stability. Frames from a small 7" x 11" to full 22" x 28" poster sizes can be used on the Sign Stand. These units are portable so can moved to the location within the store where promotion or products need to be advertised. Another option is the Poster Stand. These are poster size frames made from square section tubing, they have the advantage of not having a weighted base and so are lighter and easier to move than Sign Stands. The other option available in the Poster Stand range is to have more than one poster frame on each stand. Double and triple frame Poster Stands are available which enable the user display one, two or three posters in each unit.
Safety Signage
During the recent pandemic safety signage played a key role in helping organizations maintain social distancing within their customer queues. Here outdoor signs, post top signs and floor signs in the form of stickers were all used to inform customers of to the social distancing requirement and to guide them as to how far apart they should stand. In situations where stanchions are used as a safety barrier to restrict access signage also plays a key role in making the "keep out" message clear. When creating a safety barrier do not forget the importance of signage. The physical barrier itself is only a guide, pedestrians can climb over or under any barrier. Bold, clear messaging advising of the safety hazard can reduce the incidence of "line ducking" and improve the overall effectiveness of the safety cordon.
Applications for Signage
Promotional
In-store promotions, up selling, cross selling, brand awareness
Informational
Advice on regulations, rules, requirements, laws, schedules, timetables
Guidance
Directions, location
Safety awareness
Danger warning, restricted access notice, out of service, cleaning in progress, safety equipment requirements
Signage Types
-Post top sign frames for retractable belt and rope stanchions
-Frameless bracket signs for retractable belt and rope stanchions
-Paper sign holders for retractable belt and rope stanchions
-Free standing pedestal sign stands
-Tube frame poster stands
-A-frame poster stands
-Stanchion banners
Signage Options
| | |
| --- | --- |
| Frame Finishes | Black, Polished Chrome., Satin Chrome, Polished Brass, Satin Brass, Statuary Bronze, Pewter Nickel, English Antique, Antique Copper |
| Frame Materials | Steel, Aluminum |
| Sign Materials | Paper, acrylic, Sintra |
| Frame Sizes | 7"x11', 8.5"x11", 11"x14", 14"x22", 22"x28" |
Frequently Asked Barricade Questions
Q: Can I fit your post top signage to my existing stanchions?
A: Yes, we can fit adapters so our signs will fit any major brand of stanchion, just let us know which brand you have.
Q: Do you supply signs as well as sign frames?
A: Yes, we have an in-house sign making department and can supply a range of signs from stock or custom make a sign to your requirements.
Q: Can I use your signs outside?
A: This depends on the type of sign, for outdoors we recommend frameless bracket signs or aluminum sign frames. However, most products can be weatherized for outdoor use on request.