Retractable Belt Stanchions
Queue Solutions offers the widest range of stanchions and stanchion accessories available. Not only do we have the most models, finish options and belt colors but we also specialize in customizing our products to meet a customer's individual needs. Each stanchion is produced in our factory to exceed our customer's expectations of quality, reliability and performance.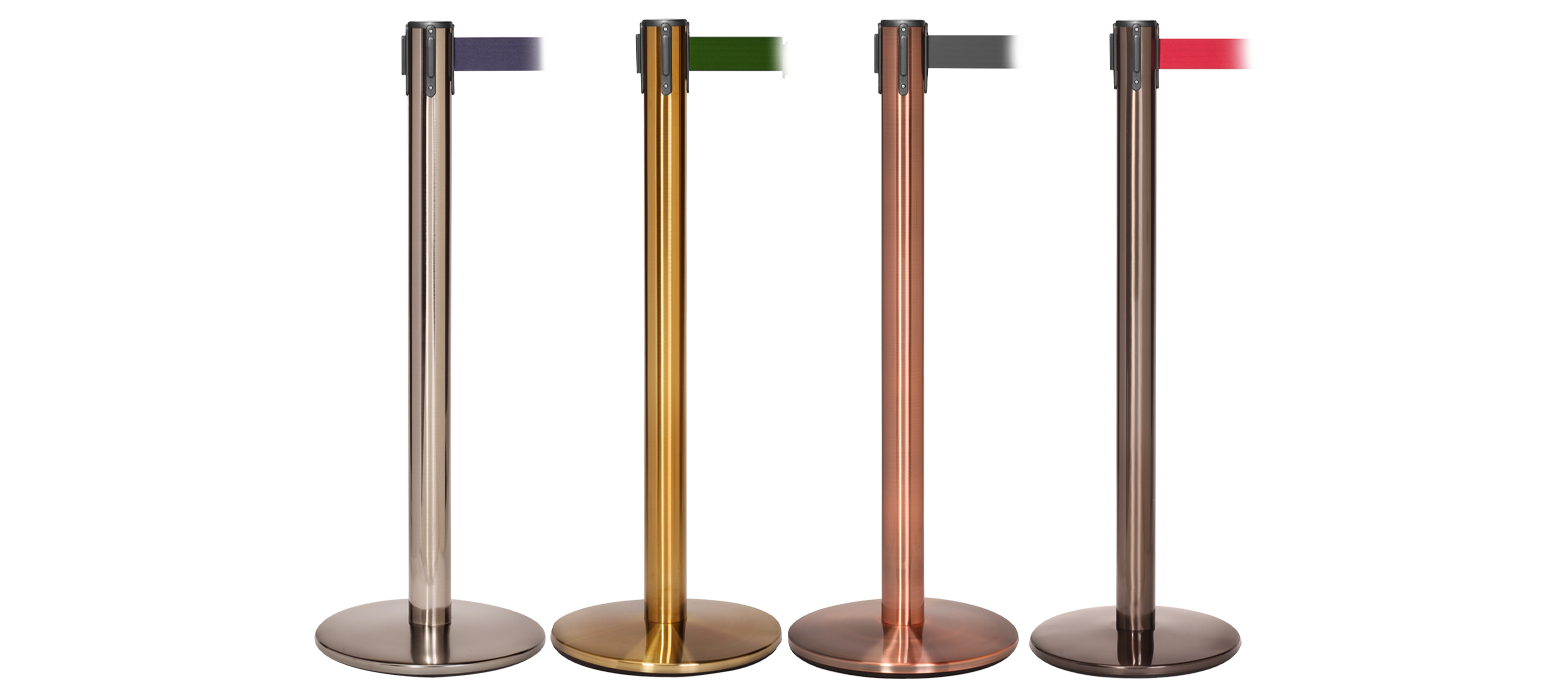 Retractable Belt Barriers Stanchions For Crowd Control
Retractable belt barriers, often called stanchions have become the worldwide standard for forming customer queues (waiting lines). Having well organized, orderly customer queues not only increases customer satisfaction but also speeds customer flow.
Queue Solutions is the market leader in the design, manufacturing, and supply of retractable belt barriers. We have over 40 models of stanchions in our range each designed to provide specific user benefits depending on the application. Whether you have heavy or light customer traffic, a large or small floor space, or need permanent or temporary queue systems we have a stanchion that will meet your needs at an affordable cost.
Applications for Retractable Belt Barrier Stanchions
Retail Stores: Stanchions play a vital role in forming customer queues at checkout. Whether single or multi line formats are used having customers organized in orderly queues increases customer satisfaction and speeds customer flow.


Transportation: Airports, train stations, and bus terminals all benefit from the use of retractable belt stanchions to guide and control the mass movement of passengers.


Entertainment: Stadiums, arenas, theaters, museums, casinos, and cinemas all widely use retractable belt stanchions for managing customers for ticket sales, entry, and concession stands.


Government: Many governmentoffices such as the DMV, passport offices, and law courts manage large volumes of pedestrians, and many use the retractable belt stanchion as the primary tool for this process.


Education: Schools and universities are large scale users of retractable belt stanchions. Often used in cafeterias stanchions can also be seen across campuses to control access to sports venues and other high traffic areas.


Why Retractable Belt Stanchions?
The retractable belt barrier has become the standard for managing customer flow because of the flexibility and low cost they offer.
Retractable Belt: The retracting belt in a queuing stanchion is its key feature. This allows a barrier that can extend for several feet to retract into the stanchion post making for compact storage when not in use. The belts can also be lengthened or shortened to increase or decrease the size of the queue system depending on traffic flow.


4 Way Connectivity: All retractable belt stanchions have 4-way connectivity i.e. as well as the stanchion belt it has three receiving splines for attachment by belts from other stanchions. This allows retractable belt stanchions to be set up in straight lines or at a right angle allowing fast, easy setup of queue systems of any shape.


Portable:Unlike guard rail systems retractable belt barriers are portable so they can be moved to any area they are needed and can be removed and put into storage when necessary. This makes installation simple and does not require drilling into expensive flooring.


Low Cost:When compared to other forms of barrier such as railings retractable belt barriers are very cost effective. Given that a single retractable belt barrier can extend from 7' to 30' the cost per foot of barrier is low. Also, of course being portable there is no cost for installation.


Frequently Asked Belt Barrier Questions
Q: What should I consider when choosing a retractable belt barrier?
A:
With such a wide range of models and styles available selecting the right retractable belt barrier for your needs can seem challenging but if you consider the following key product features you will be able to quickly find the best fit for your requirements.
-Base Type: For high traffic areas or where the stanchions need to be moved regularly choose a cast iron base as this provides the best durability. For lighter traffic areas and where the stanchions are not moved the lower cost concrete filled galvanized steel base is suitable.


-Base style: Consider selecting a retractable belt stanchion with a low-profile base in high traffic areas as these reduce the trip hazard.


-Belt Length: In general terms the longer the belt the fewer stanchions you need saving in purchase cost, reducing set up time and decreasing the amount of space needed for storage. For smaller queue systems a shorter 10' to 13' belt will be ideal. For large, high-capacity queue systems a longer 15' to 16' belt will be more efficient.


-Number of Belts: Single belt stanchion are the most common and are adequate for many applications. However, to reduce the frequency of 'line ducking' or where ADA compliance is required select a twin belt model. In situations where it is important that customers remain in their lane or where you have small children in line a triple belt stanchion will be the most effective solution.


-Cost: Always consider belt length when comparing the cost of retractable belt stanchions. Divide the stanchion cost by the belt length to calculate the cost per foot of barrier.
Q: What are your retractable belt stanchions made of?
A: All our stanchions have steel or stainless-steel posts matched with cast iron or galvanized steel bases. We also have a range of stanchions featuring heavy duty rubber bases for commercial and outdoor applications.
Q: Can I customize my stanchions?
A: Yes, every part of the stanchion can be customized! We have a wide range of colors and metal finishes available from stock as well as a choice of over 200 custom colors that can be produces on a short lead time. The stanchion belts are available in 50 stock colors and can be custom printed with your logo. The post itself can be custom printed using our Post Wrap option and even the post top label can have your logo if required.
Q: Will I be able to use Queue Solutions belt stanchions with my existing belt barriers?
A: Yes, our stanchions are manufactured with universal belt ends and receivers to connect with all major brands of retractable belt stanchion.