Safety Belt Barriers
Our Site Safety range is made up of over 30 models of barriers each designed for use in tough working environments, and all are suitable for indoor or outdoor use. We offer a selection of over 20 pre-printed safety message belts or we can custom print a message of your design. Our Site Safety range offers several unique solutions for restricting access to work areas including the world's first triple belt barrier and our new 775 model featuring a 75′ belt that dramatically reduces the number of barriers needed.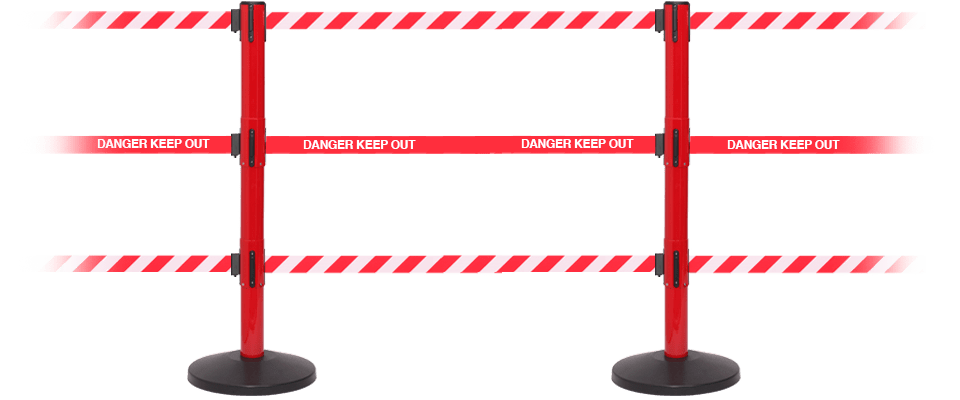 Safety Belt Barrier Stanchions
Retractable belt barriers have two main uses, guiding pedestrian flow in customer queues and as safety barriers. As a safety barrier the retracting belt stanchion restricts access to work or cleaning areas. This form of barrier has the advantage of being highly portable, light weight and because the belt extends from inside the stanchion post a very long barrier can be created from a single stanchion.
Queue Solutions is the market leader in the design, manufacturing, and supply of safety belt barriers. We have over 40 models of stanchions in our range each designed to provide specific user benefits depending on the application. Whether you need to restrict access in factory, warehouse, construction, or other work environments we have a safety stanchion that will meet your needs at an affordable cost.
Features of a Safety Belt Barrier
The use of retractable belt stanchions in safety applications is fundamentally different to the use of stanchions in queueing applications. In a safety role the stanchion must be highly visible and make the 'keep out' message clear from a distance. Unlike queueing applications safety stanchions are typically deployed in long straight lines. Long to very long belt lengths are an advantage as they require fewer stanchions to set up and store, this also lowers purchase cost. Safety applications tend to be temporary which means the safety stanchion will be set and taken down frequently. In addition, safety stanchions are used in work environments, so the stanchion needs a heavy-duty durable construction. Listed below are some of the features that we have built into our safety stanchions to optimize their performance:
•Safety stanchions are available in all three OSHA safety colors, high visibility yellow, orange, and red.
•Safety stanchions can be ordered with any of our hi vis belt colors including fluorescent, reflective, diagonal stripes and a selection of 25 safety messages.
•Extra long belts, up to 75' are available in our safety stanchion range.
•All of our safety stanchions are weatherized for outdoor use.
•Our WeatherMaster range of safety stanchions features a heavy-duty rubber base that is optimal for permanent outdoor use.


Applications for Safety Belt Barriers
Manufacturing: There are multiple places in a manufacturing environment where restricting access to specific areas is vital to site safety. Retractable belt barriers are used to close off areas under maintenance or construction, where forklift trucks are operating and as machine guards.


Warehouse: In warehouse environments the retracting belt barrier is most often used in areas where forklift trucks are operating. In addition, while not providing fall protection, retracing belt barriers are used to warn of open loading bays and vehicle inspection pits.


Construction: Construction applications are either indoor, often repairs or maintenance or outdoor for new construction. All our safety retractable belt barriers are designed for outdoor use however for permanent outdoor use we recommend our WeatherMaster range which features a heavy-duty rubber base.


Cleaning: This is the most temporary of applications and here the portability of retractable belt stanchions is a great advantage. Easily moved and set up, especially when a storage cart is used the long length of the retractable belt stanchion makes setting up a barrier fast and easy.


Pedestrian Safety: There are an extremely wide and varied range of applications where retractable belt barriers are used to guide pedestrians away from hazardous areas such as guiding passengers on airport runways.


Frequently Asked Safety Stanchions Questions
Q: What should I consider when choosing a retractable belt barrier?
A:
With such a wide range of models and styles available selecting the right retractable belt barrier for your needs can seem challenging but if you consider the following key product features you will be able to quickly find the best fit your requirements.
Base Type: Safety applications generally require the most robust barrier and we recommend a cast iron base for indoor use and a rubber base for outdoors. For light duty situations where the stanchion will not be moved often the lower cost concrete filled galvanized steel base is suitable.


Belt Length: In general terms the longer the belt the fewer stanchions you need saving in purchase cost, reducing set up time and decreasing the amount of space needed for storage. We recommend selecting the longest belt possible for safety applications.


Number of Belts: Single belt stanchion are adequate to show that access is restricted. Twin belt stanchions provide a better physical barrier while the triple belt option is almost as effective as a solid barrier but at a lower cost.


Cost: Always consider belt length when comparing the cost of retractable belt stanchions. Divide the stanchion cost by the belt length to calculate the cost per foot of barrier.


Q: Which of the safety colors should I choose?
A:
Following ANSI guidelines we offer all our safety belt barrier stanchions in the three standard safety colors:
Yellow – "Caution": Use for day to day hazards such as wet floors, employee access only or risk from moving equipment. Yellow is the most universally recognized warning of potential hazards.


Orange – "Warning": Indicates a higher degree of risk to pedestrians such as electrical hazards or work sites with heavy equipment operating. Orange is the universal safety color for the construction industry.


Red – "Danger": The highest warning level, red is used where risk of injury is the highest such as electromagnetic discharge risk, electrical risk, or flammable materials risk.


Q: What does the safety stanchion belt connect to?
A: When setting up a barrier the belt from each stanchion connects to the next stanchion in line. The stanchion at the end of the line is a receiver that does not have its belt deployed. However, we have a variety of belt end options available that enable the safety stanchion belt to be attached to a wall, wrap around a column, or attach to a mental surface with magnets.
Q: Can safety stanchions be used outside?
A: Yes, all our safety stanchions are weatherized for outdoor use. For prolonged or permanent outdoor use, we recommend our WeatherMaster range of safety belt barriers as these features a heavy duty rubber base which will never rust.
Q: Do safety stanchions have a braking mechanism?
A: Yes, all our safety stanchions are fitted with a belt brake for slow, safe belt retraction. We recommend that the belt be 'walked' back rather than allowing it to drop to the floor as this keeps the belt clean and reduces the chance of the belt end being damaged.
Q: Can safety stanchions only be set up in straight lines?
A: All our safety stanchions feature 4-way connectivity. Each stanchion has a belt plus three receiver splines which will take the belt from another stanchion. This allows barriers to set up in straight lines, right angles, u-shape, and rectangles to form a complete cordon. While the belt deploys from the stanchion in a straight line it can be attached to another stanchion at an angle if required.
Q: Can I customize my safety stanchions?
A: Yes, every part of the stanchion can be customized! We have the three main safety colors, yellow, orange and red in stock plus as a choice of over 200 custom colors that can be produced on a short lead time. The stanchion belts are available in 50 stock colors and 25 safety messages, or we can custom print your own message. The post itself can be made reflective using our Post Wrap option.