Wall Mounted Barriers
Wall mounts are one of the largest and most versatile categories within our product range. Wall mounting eliminates the need for bulky floor standing barriers making wall mounts the preferred option for closing off doorways, corridors, and isles. Look for our innovative specialized products featuring twin belts for an improved barrier, wide belts for high visibility safety messages, and recessed mounts to eliminate obstructions in narrow corridors.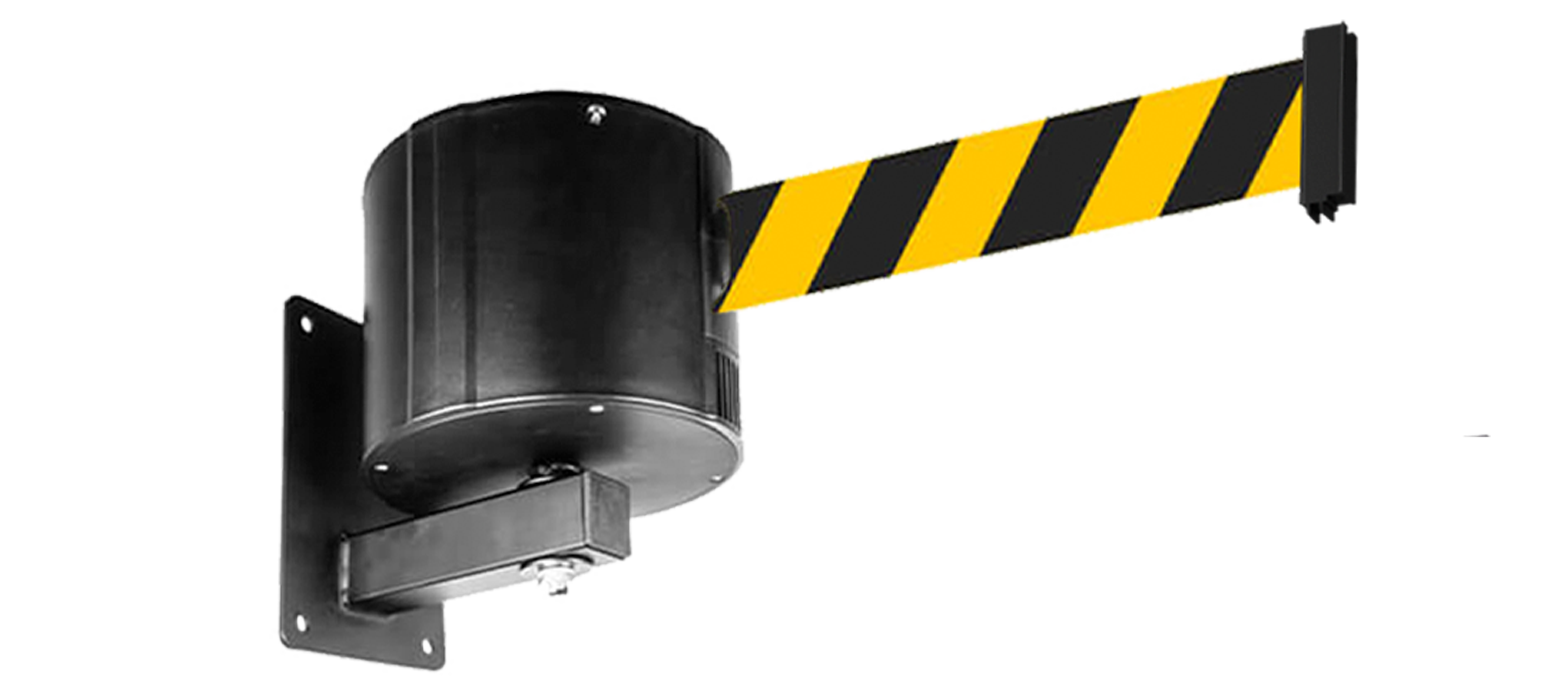 Wall Mounted Retractable Barriers
Queue Solutions offers a wide range of wall mounted retractable belt barriers including a variety of mounting types, belt lengths, colors and a wide range of safety messages. Wall mounts are retractable belt barriers that mount to a wall, column, warehouse rack or any vertical surface. Wall mounting leaves floors and isle ways clear while allowing access to be closed off when needed.
Safety Applications for Wall Mounted Belt Barriers
OSHA reports that 13 deaths per day occur on the job. Of these the "Fatal Four" are falls, electrocution, struck by object and caught – in/between. Wall mounted belt barriers improve site safety by warning of and restricting access to hazardous areas. Keeping aisles, walkways, and floors clear when equipment is operating, or work is in progress is one of the most important aspects of accident prevention.
Wall mounted belt barriers act as both physical and visual barriers. For visual barriers OSHA recommends specific colors to reflect the type of hazard involved. Yellow for "Caution" used for everyday hazards such as wet floors. Orange for "Warning" indicating a higher degree of risk to pedestrians such as electrical hazards. Red for "Danger" such as heavy equipment operating. Queue Solutions wall mounted retractable barriers are available with a selection of over 25 safety messages in the recommended OSHA safety colors.
Wall Mounted Belt Barriers For Pedestrian Guidance
While retractable belt stanchions are mainly used for creating customer waiting line (queue) systems they are less suitable for restricting access to isles, corridors, and doorways. This is because a floor standing stanchion takes up space and must be moved when not in use. Wall mounted retractable belt barriers can be permanently mounted as they do not intrude into the floor space when not in use.
For facilities with very high pedestrian traffic such as airports there is a constant need to guide foot traffic. Restricting access during construction, maintenance and cleaning is necessary as these facilities operate 24/7 and work cannot be conducted after hours. Similarly access by the public to security areas needs to be restricted while still being easily accessible for the facility's staff. Wall mounted retractable belt barriers are the ideal solution for these situations. They can be permanently mounted to the wall and access restricted quickly by simply extending the belt from its housing and attaching to a receiver clip on the opposite wall.
Wall Mounted Belt Barrier Products
Wall mount belt barriers are one of Queue Solutions largest product ranges. We have 12 models each available with a choice of 4 mount options and five belt end types. Each model has a selection of 30 belt colors and 25 pre-printed safety messages. We can also custom print the belts with customers own logos or safety messages. Mounting options include permanent fixed mounts, removable mounts, clamp mounts for attaching to columns and magnetic mounts. The magnetic mount will attach to any metal surface and is paired with a magnetic belt end. This option is widely used on warehouse racks to close off isles while forklifts are in use.
Our wall mounted belt barrier range features belt lengths from 7.5' up to 75' The WallMaster product line features metal housings in five finishes, black, polished chrome, yellow, red and orange. The WallPro range has tough ABS housings in black, yellow, red, orange, silver and white. The Queue Solutions range of wall mounted belt barriers also includes several unique products. Our Recessed WallPro are designed to fit into a wall cavity with a face plate flush with the wall so there is no intrusion into the corridor. These models are available with our Xtra 3" wide belts which allows logos and safety messages to be printed 50% larger than the standard 2" belt. The WallMaster Twin models feature two belts which improve the physical barrier and restrict pedestrians from ducking under the belt.
Applications
Retail: Stores and malls


Transportation: Airports, train stations and bus terminals.


Entertainment: Stadiums, arenas, theaters, museums, casinos, and cinemas.


Public Offices: DMV, passport offices, law courts, schools, churches, and universities


Construction: Manufacturing and Warehouse


General Use: Maintenance and cleaning work zones


Features and Benefits
Belt lengths from 7.5' to 75' to close any sized space.


30+ belt colors and 25+ safety messages available. Custom printing an option.


Heavy duty nylon belts with a herringbone weave that will retract silently and won't fray or pucker.


Belt brake for slow safe belt retraction.


Supplied with wall fixings and receiver clips for simple installation.


Fixed mounting, removable mounting, clamp mounting, suction cup mounting and magnetic mounting options available.


The standard Universal belt end connects to all major brands of stanchion. The S-clip belt end wraps around posts and attaches back on the belt itself. The magnetic belt does not require a receiver clip but attaches direct onto any metal surface.


Frequently Asked Wall Mount Questions
Q: How does the belt end attach to the wall?
A: All our wall mounted belt barriers are supplied with receiver clips which are fixed to the opposite wall for the unit's belt end to attach to. For magnetic belt ends a steel receiver plate is supplied if required.
Q: How does the retractable belt unit attach to the wall?
A: The standard unit has screw mounting points and is supplied with wall plugs and screws. The removable option is a plate that is permanently screwed to the wall which the belt unit slides in and out of. This allows a single unit to be used in multiple locations. For attaching to a metal surface, the belt unit is supplied with magnets. To fix to a column or post the unit is supplied with hose clamps and to attach to glass suction cups are used.
Q: What belt lengths are wall mount retractable barriers available in?
A: We offer 12 belts lengths ranging from 7.5' to 75'.
Q: Can a wall mounted retractable barrier attach to a retractable belt stanchion?
A: Yes, the standard belt end on our wall mounts is the same Universal belt end used on our stanchions. This belt end will connect to all major brands of stanchion.
Q: Can I purchase extra wall receivers?
A: Yes, we sell wall mount receivers separately.
Q: Can I purchase spare parts for my wall mount retractable barriers?
A: Yes, wall receivers, belt ends, caps (for the WallPro range) and complete belt cassettes (WallMaster range only) are all available as replacement parts.
Q: Are wall mounted belt barriers suitable for outdoor use?
A: Yes, all our wall mount retractable barriers are designed for outdoor use, however we recommend the WallPro range which features an ABS housing for outdoor applications.
Q: Do the wall mount barriers have a braking system?
A: Yes, all models have a braking system for slow, safe belt retraction.
Q: Can the belt of a wall mount be attached at an angle?
A: Yes, the belts can be extended and attached at an angle.
Q: Can I order a custom print on the belt?
A: Yes, we can custom print your logo or safety message on the belts.