QueueMaster 550: Affordable and Effective Crowd Control
Let's talk about the QueueMaster 550, a tool that helps manage crowds. Whether you're guiding travelers at the airport, keeping order at events, or providing a smooth checkout experience in a retail store, this retractable belt barrier is up to the task. In this guide, we'll take a closer look at how the QueueMaster 550 simplifies crowd control and explore why it's a popular choice.
A Trusted Name in Crowd Control
Imagine a world where there's no system to guide customers through areas such as checkouts, entrances, and ticket booths. It would be a chaotic and potentially unsafe place. The QueueMaster 550 is a trusted product designed to ensure that crowd control runs smoothly and securely. It has set a benchmark in the industry for its performance, user-friendliness, and cost-effectiveness.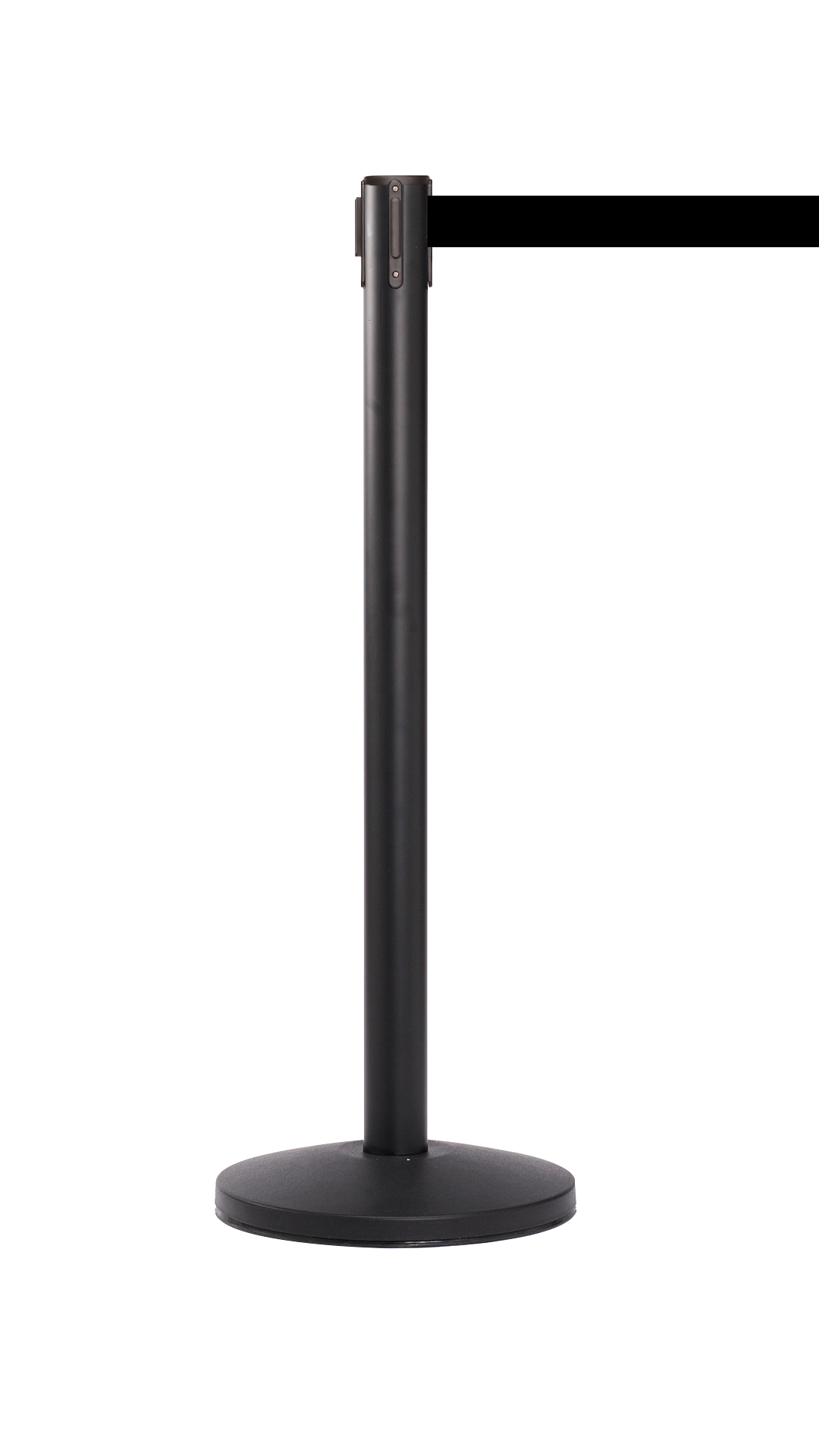 Customizable Options to Suit Your Needs
The QueueMaster 550 offers impressive flexibility. It comes in various finishes to match the environment where it's used. You can choose from options like black, stainless steel, brass, and more. This means QueueMaster can blend seamlessly into different settings without compromising its essential functions. It's like having a versatile piece of furniture that can complement any room.
Safety First: A Well-Designed Crowd Control Solution
Safety is a top priority in crowd control, and the QueueMaster 550 is designed with that in mind. It features a slow retracting brake system, ensuring the belt doesn't snap back suddenly, which could cause accidents. By slowing down the belt's retraction, it significantly reduces the risk of injury or damage, making it a safe choice for crowded places. Moreover, it includes a locking belt end feature, which prevents the belt from retracting accidentally. This adds an extra layer of safety and security, making QueueMaster a trusted brand in crowd control.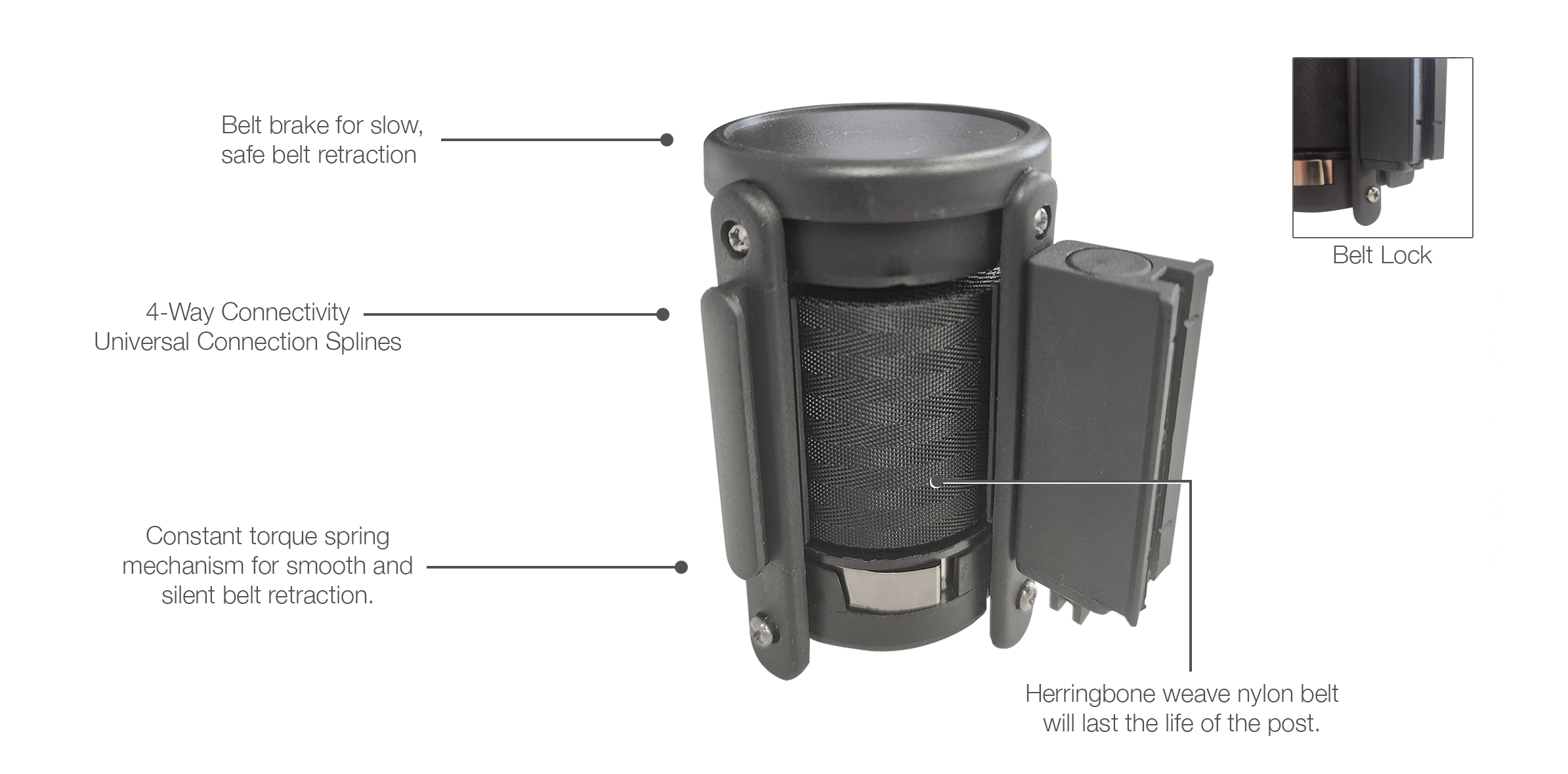 Protecting Your Environment: Full Circumference Floor Protector
In addition to ensuring the safety of people, the QueueMaster 550 also looks out for your venue. It's equipped with a full-circumference floor protector. This feature is essential to prevent any chance of scuff and scratch damage to expensive flooring. It ensures that your floors remain in good condition, even if stanchions are dragged or rolled across the floor.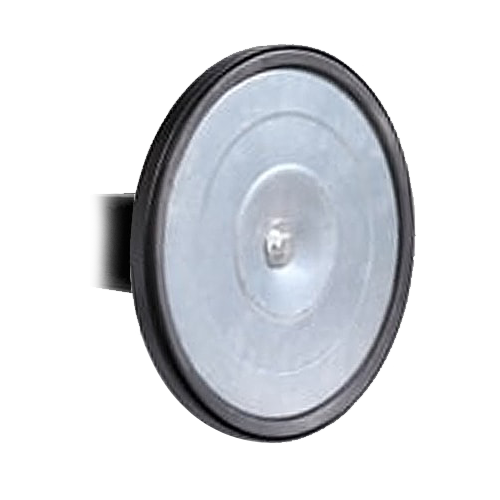 Where it Works Best: Versatility Across Various Settings
The QueueMaster 550's versatile design and features make it suitable for a wide range of applications. Here are some areas where it truly shines:
1. Retail Stores: In the world of retail, first impressions are vital. The QueueMaster not only keeps checkout lines organized but also conveys your brand's professionalism.
2. Airports and Transportation Hubs: Managing the flow of travelers in busy airports can be quite challenging. The QueueMaster 550's extra length 11' belt means fewer stanchions are required saving on purchase cost and set up time.
3. Museums and Galleries: Safeguarding priceless artifacts while providing an optimal viewing experience can be a delicate balance. The QueueMaster's discreet presence ensures security without obstructing the view.
4. Public Safety and Security: The QueueMaster is equally valuable in scenarios where crowd control intersects with public safety, such as restricting access to maintenance and cleaning areas.
In Conclusion: The Go-To Crowd Control Solution
In summary, the QueueMaster 550 sets the industry standard for retractable belt barrier crowd control. Its combination of budget-friendly pricing, high-quality materials, and adaptable design makes it a top choice for businesses and organizations worldwide. Whether you're managing queues in a retail store, directing crowds at a public event, or ensuring safety at an airport, the QueueMaster 550 consistently delivers reliable performance and great value. To enhance your crowd control strategies and explore the full range of options available with the QueueMaster 550, get in touch with Queue Solutions. Your satisfaction is their priority, and they're dedicated to helping you achieve efficient crowd control tailored to your needs. Visit their website www.queuesolutions.com to discover a wide selection of crowd control products and find the ideal solutions for your organization.
If you liked this blog post please make sure to check out the blog post about 3 Must Have Queueing Products.
For more information about these products and more, please view our full range of Belt Barriers.