The QueuePro 250 Fixed: Providing Permanent Queueing Solutions
When it comes to permanent queue layouts, the QueuePro 250 Fixed is a top choice. These retractable belt barriers offer high performance and durability, making them ideal for a wide range of environments such as airports, sports arenas, and retail stores. With its auto-locking belt end, slow retract brake and exceptional build specifications, the QueuePro 250 Fixed ensures secure and safe queue formation. Let's delve into the features and benefits of this popular stanchion.
Ideal for Permanent Queueing
The QueuePro 250 Fixed is specifically designed for permanent queueing, featuring an innovative fixed base that offers several advantages. One of the most notable benefits is its unmatched stability, thanks to the ability to bolt the base to the ground. This creates a sturdy and durable option that ensures the stanchion remains effective for years to come. Additionally, the small diameter of the fixed base significantly reduces the tripping hazard, making it an ideal choice when minimizing the risk of accidents is crucial. However, it's important to note that fixed stanchions are not suitable for situations where relocation of the stanchions or changes to the queue layout are required.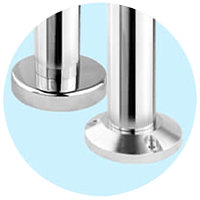 Unmatched Versatility and Options
The QueuePro 250 Fixed stands out with its extensive range of finish and belt options. As the best-selling stanchion in the US market and beyond, it provides unparalleled versatility to match any branding or décor requirement. With a wide selection of stock finishes and over 40 different stock colors for the 2-inch wide 11 or 13-foot belts, you can customize your queue management system to perfectly align with your business aesthetics. Additionally, the optional flange cover is available to provide an enhanced aesthetic.
Secure and Reliable Operation
One of the key features of the QueuePro 250 Fixed is its slow retracting brake system. This ensures controlled belt retraction, preventing high speed 'belt whip' that could pose a safety risk. The locking belt end adds an extra layer of security, preventing accidental belt release or tampering. With the QueuePro 250 Fixed, you can have peace of mind knowing that your queues are well-maintained and secure.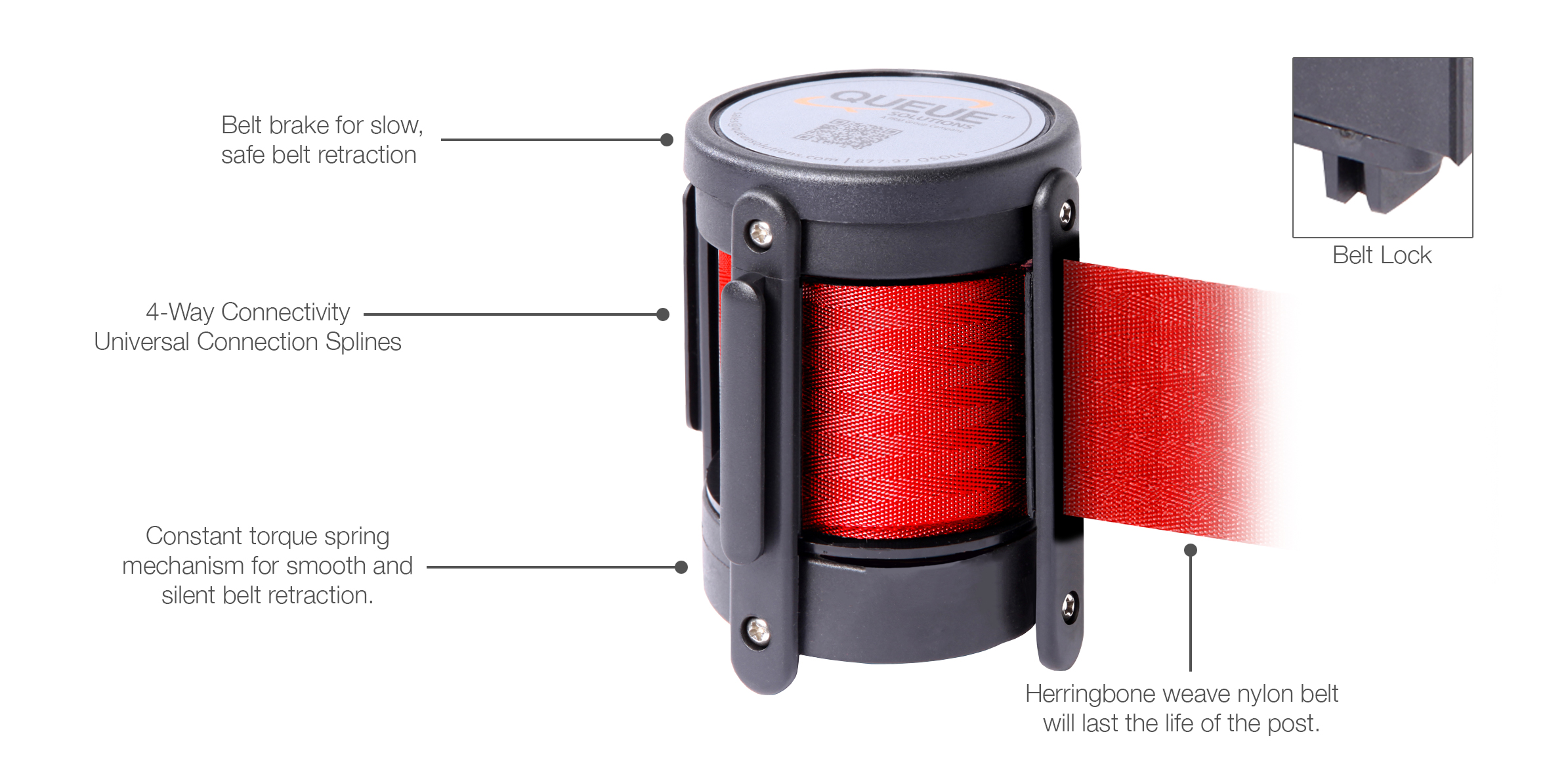 Weather Resistance for Outdoor Use
The QueuePro 250 Fixed can be weatherized, making it suitable for outdoor use. Whether it's rain, sun, or wind, this stanchion is built to withstand the elements while maintaining its functionality and appearance. You can confidently use the QueuePro 250 Fixed for both indoor and outdoor queue management, ensuring consistency and effectiveness in any setting.
Customization Options for Branding
At Queue Solutions, we understand the importance of branding and visual consistency. That's why the QueuePro 250 Fixed offers full customization options. The post can be provided in special finishes, colors, or even feature logos on the post and belt to reflect your brand identity. The belt can be printed with any number of colors, allowing you to promote your logo or brand and leaving a lasting impression on your customers.
Conclusion
When it comes to permanent queueing solutions, the QueuePro 250 Fixed is an exceptional choice. With its high-performance features, extensive customization options, and reliable operation, it delivers on both functionality and aesthetics. Whether you're managing queues at airports, sports arenas, or retail stores, the QueuePro 250 Fixed ensures a seamless and secure queuing experience for your customers. Explore the range of options available and elevate your queue management system with QueuePro.
If you liked this blog post please make sure to check out the blog post about the QueuePro 200 Fixed.
For more information about this product and more, please view our full range of belt stanchions.